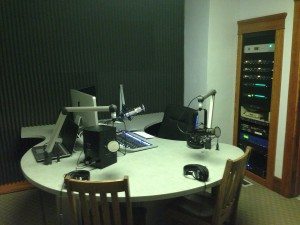 God's provision so that WGOJ could be on the air broadcasting the Wonderful Grace Of Jesus is quite a blessing. From the signing of the papers to this present day, God has come through and kept WGOJ going even when thought impossible.
So in what has God provided? He was supplied the frequency, the facilities, the staff, the finances and support. Without His help and the prayer and financial support of our faithful listeners, WGOJ could not be where it is today.
Our PledgeWe the staff and management of WGOJ, pledge to you our continued dedication to the aim of this station to broadcast the Wonderful Grace of Jesus to Northeastern Ohio, Northwestern Pennsylvania, and Southern Ontario, Canada. We also pledge to continue upholding the family as the mainstay of our great nation.
April 28, 1975 - The first meeting with Donald A. Bruck, President of Contemporary Media, Inc. for consideration of WFIZ radio station.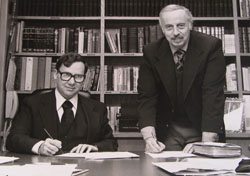 June 30, 1978 - The papers were signed between Dr. Roger Hogle and Mr. Buck for the WFIZ.
January 1979 - The call letters WGOJ representing Wonderful Grace Of Jesus were granted to the radio station. The idea of the call letters came from Helen Jackson.
February 23, 1979 - WGOJ began broadcasting at 6:00 am in it's studio at South Ridge Baptist Church in Conneaut, OH at 105.5 FM.
February 6, 1990 - Applied to the FCC for permission to double the power to expand the listening area.
February 1991 - WGOJ began the move to the Old Cleveland Hotel in Conneaut, OH.
March 19, 1992 - WGOJ received permission from the FCC and Canadian officials to increase our power from 3000 watts to 6000 watts.
October 23, 1993 - WGOJ completed the power increase to 6000 watts.
April 12, 2004 - WGOJ signed a contract with VCY (Voice of Christian Youth) out of Milwaukee, Wisconson to air some of their programming and music.
September 17, 2004 - WGOJ moved to 253 Mill Street in Conneaut without interruption of broadcasting.